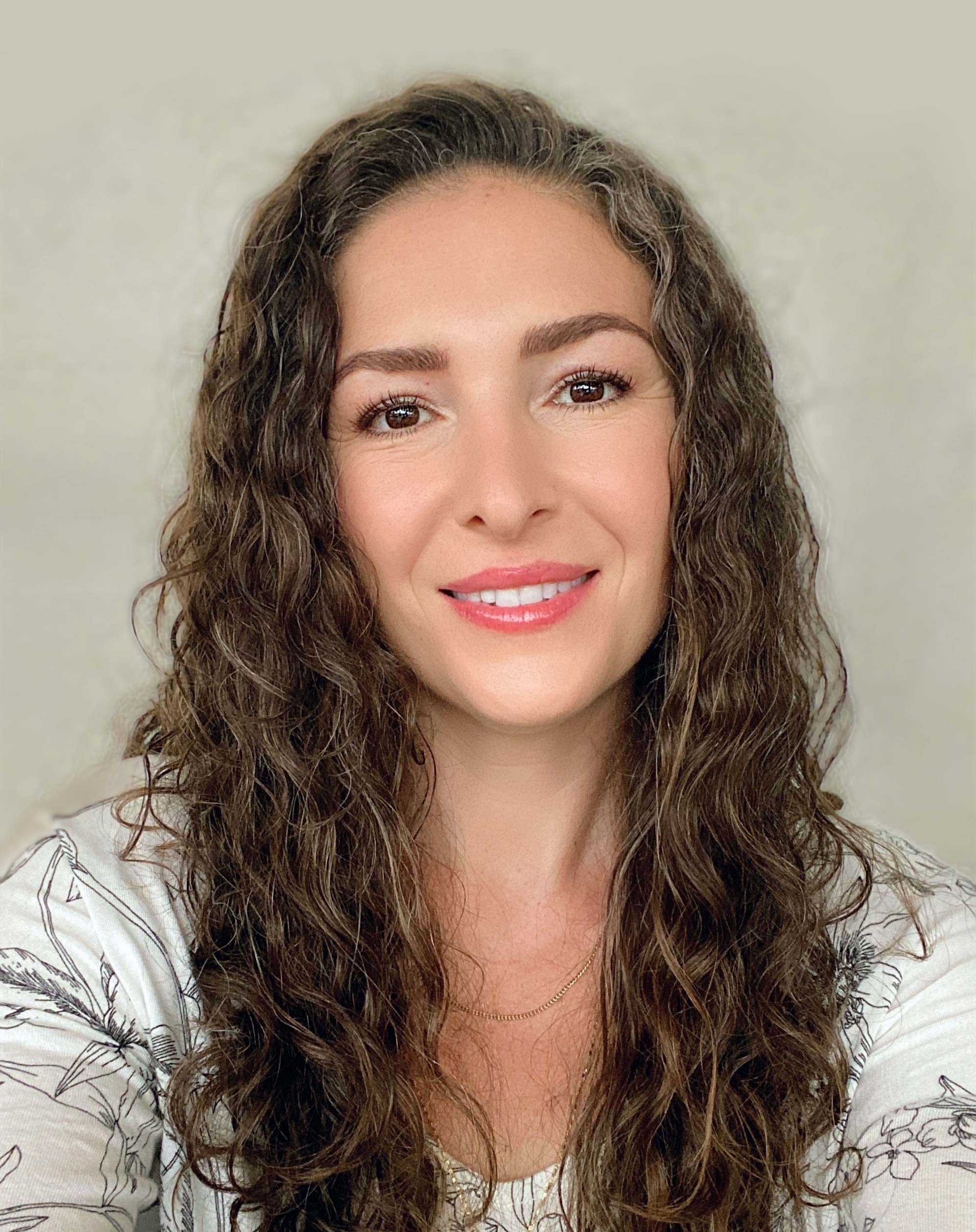 Anna Kesler
Lead UX Designer
The Redesign of ThingWorx
Modernizing and optimizing a global IIoT platform.
What is ThingWorx?
ThingWorx is the industry-leading, award-winning Industrial Internet of Things (IIoT) technology platform developed by PTC, a leading computer software and services company. It provides enterprise-ready IIoT-specific development tools and capabilities that enable solution builders to:
Rapidly build and deploy game-changing IIoT solutions that power smart, connected operations and products

Accelerate their time to market

Deliver transformative business value

Make end-user experiences more compelling for web, mobile, and Augmented Reality
ThingWorx contains a broad set of features, including a variety of connectivity options, application development tools, analytics, and augmented reality all built around a single, real-time view of a physical object in the digital world-the Thing Model. With Thingworx, solution builders can create scalable and secure solutions that provide high level of return on investment.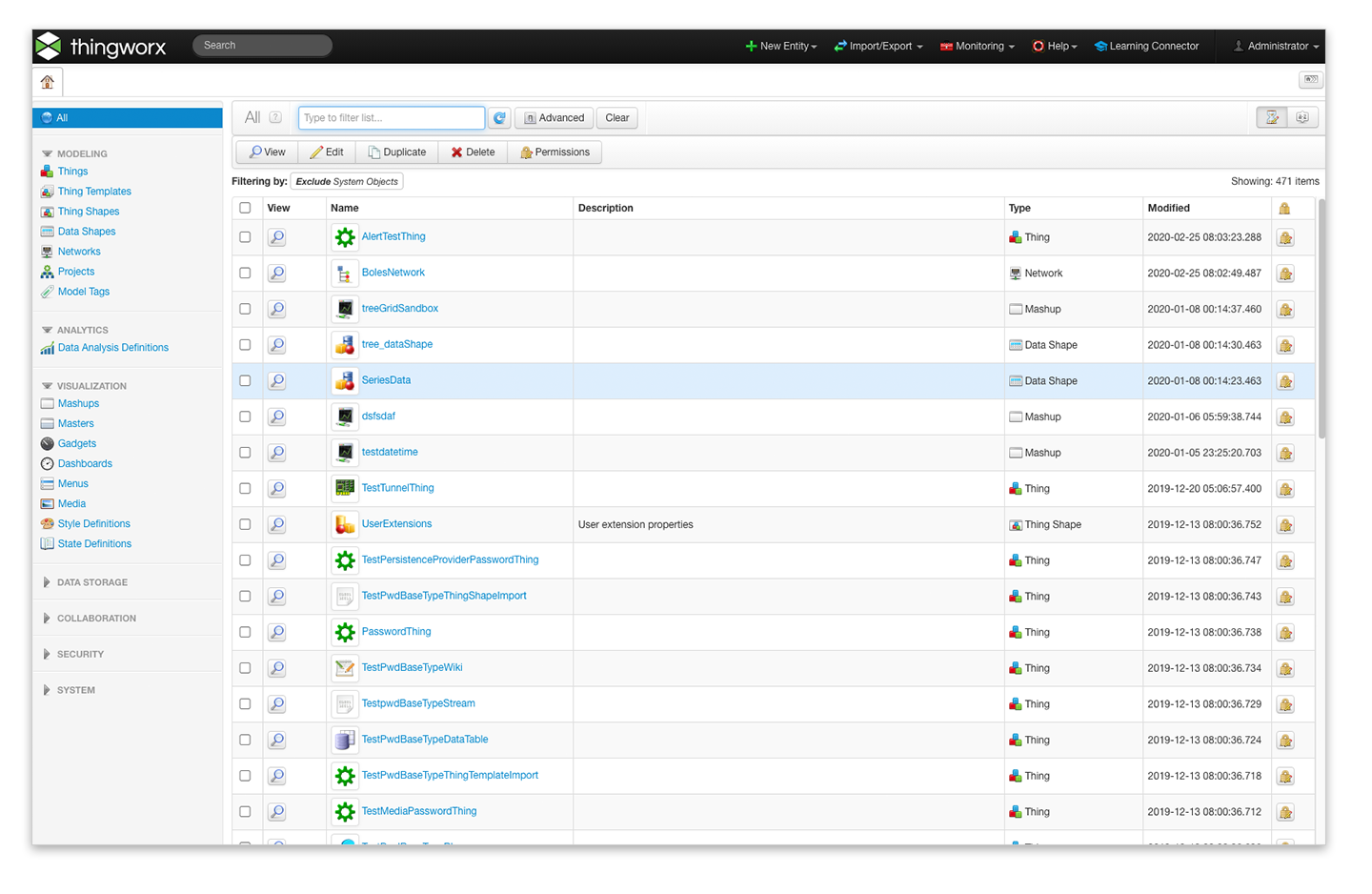 My Role
In 2015 PTC sought to update the design of ThingWorx, which hasn't been updated since 2009, with added functionality, improved usability, and modernized the user interface. PTC wanted to increase ThingWorx adoption as it was entering the Internet of Things (IoT) space. I was the lead Sr. UX Designer of that endeavor.
During my time on the R&D team, and throughout this project, I had many responsibilities. I was the lead Sr. UX Designer, Visual Designer, and UX Researcher. I worked with a multi-disciplinary team consisting of a Product Manager (PM), Technical Project Manager (TPM), Technical Vice President (TVP) of UX Development, and a team of engineers. The immediate engineering team was small and we operated like a start-up, utilizing agile methodologies.
Interviews
The gathering of user input was performed with internal users from the tech support teams, pre-sales teams, and developers who use ThingWorx.
Utilizing Lean UX methodologies, I needed to quickly gather critical information to help me make design decision. I interviewed internal stakeholders with the following goals:
Learn how the software was being used.

Learn the pain points users experienced.

Learn the functional benefits and shortcomings of the software.

Learn the improvements users were seeking.
During the interviews, we additionally discovered that:
Users felt the UI was outdated.

Users needed a responsive UI.

UI did not accommodate localization as well as the complexities of the ThingWorx platform resulting in numerous bugs.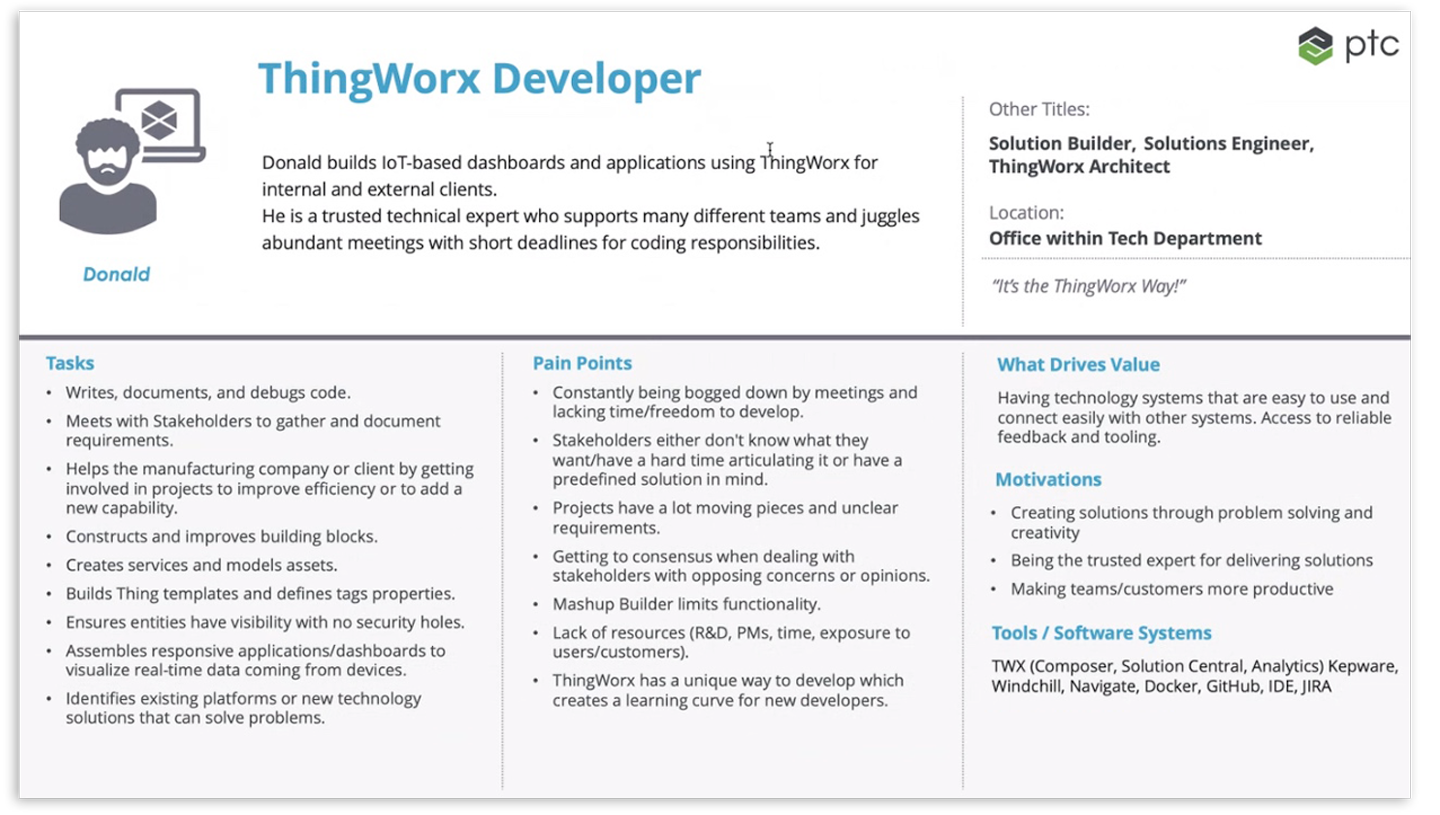 Personas
ThingWorx was initially intended to be a minimal code platform. Its goal was to allow a non-developer to build full IoT applications without writing much code. As such, our purpose was to find the happy place of delivering powerful software that required minimal skills.
Based on interviews, we learned that the typical ThingWorx applications developer had a background in dashboard and application design as well as some coding skills. Our first persona was defined as Donald, the ThingWorx Developer.
We identified Donald's daily tasks as well as pain points. This helped us understand the capabilities Donald needed to be successful.
Ideation and Design
After the initial interviews my team and I began collaborating on ideas.
We held numerous white boarding sessions to discuss how to approach the problems discovered during the qualitative UX research. Working closely with the TVP of UX Development and a couple of key engineers we were able to generate user workflows that later led to UX wireframes. The initial wireframes were built using Balsamiq. I later transitioned to Axure once it became available at PTC.
Many iterations of wireframes took place and were later developed into high fidelity visual designs. The artifacts were presented to the Senior Vice President (SVP) of ThingWorx Platform R&D for feedback.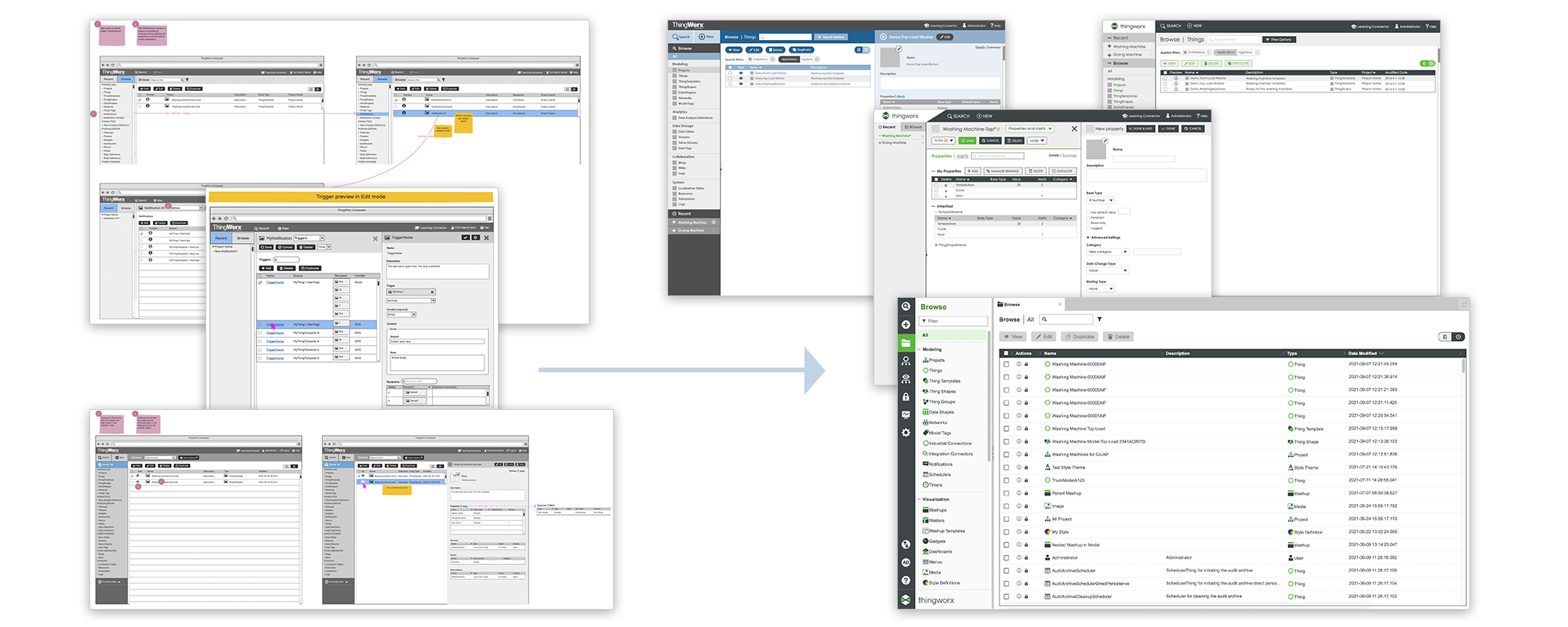 User Testing
Once we had a live prototype produced by the engineering team, we conducted UX studies at the annual LiveWorx Conference.
The goal of these UX studies was to validate our design with quantitative research methods. During these quantitative UX studies the user is asked to perform strategic tasks using a interactive prototype developed by the engineering team. The user's feedback gained directly influenced the next improvements of the UX for ThingWorx.
Specific areas of interest where:
Can the user successfully interpret the data in the UI?

Can the user understand the navigation?

Can the user understand the CRUD method as it applies to the properties of an entity?

General feedback on the new UI.

Additional functionality requests.
Development
Taking the wireframes and the redlines, the engineering team went to work.
I worked side-by-side with the engineering team to create the new ThingWorx you see today. As developers worked on implementing my design we had consultation meetings to discuss any challenges. We corrected course with UX as needed during development. This type of agile method allowed us to meet our tight deadlines with limited resources. At the beginning of the ThingWorx redesign my team used Kanban. The last couple of years we have switched to the Scrum method.
When we relaunched ThingWorx, the software evolved to utilize a single column form layout to address any localization issues. The bug report went from hundreds to zero. We incorporated responsive behavior to accommodate screen sizes as small as 1280 x 1024. Now, when you experience the ThingWorx platform, you will notice that tabs and menus move into an overflow menu. Buttons and grids resize as the screen shrinks. We updated the visual design to a modern look and feel. And finally, we updated the UX to allow the user to take advantage of what ThingWorx has to offer.
The redesign of ThingWorx is an iterative process that is still ongoing. In the last couple of years we've added a visual designer to the team as well as UX researchers that were able to assist in bringing the new ThingWorx to life.
As of 2019 PTC's ThingWorx Industrial Internet of Things (IIoT) platform has been recognized as the IIoT platform of choice for the industrial companies around the world. It is has reached global adoption by about 2,000 companies.
During this process, I have learned that team work is everything. Being responsible for three major areas of a global product (UX Research, UX Design, and Visual Design) is a lot of responsibility to bear for one person. In order to be successful, one must have the support of a great team. You must be willing to fail, learn quickly, and iterate often. PMs and TPMs need to adjust their expectations and react accordingly. The way to get things done in this type of a scenario is via Lean UX.